Not sure what accessories to wear with your blue dress? Don't worry, you've come to the right place! In this style guide, you'll find the best ideas for earrings, necklaces, shoes, clutch bags, and even nail polish to create the perfect outfit.
Whether for a wedding, prom, or fancy night out, you'll find the right accessories to match your style! Plus, I'll also share some outfit ideas to inspire you and help you look fabulous wherever you go!
What color accessories go with a blue dress?
Choosing the right accessories for your blue dress will make all the difference! However, there are a few details to consider, such as the occasion, the shade and style of your dress, or even the time of day.
To make things easier for you, I've split this guide into four parts: jewelry, purses, shoes, and nail polish. In each section, you'll find the best picks for both classy and daring looks, so you can go with what suits your style best!
Jewelry
Whether you're wearing a light blue or navy blue dress, silver or gold jewelry can add that touch of elegance and glamour you're looking for. If you're not sure which color to choose, remember that it all comes down to your skin tone, hair color, and personal preference.
If you have a cool skin undertone or dark hair, silver earrings, necklaces, and rings are the way to go. And since blue is a cool color, it pairs perfectly with silver accessories, creating a sophisticated look!
But that doesn't mean you can't wear gold jewelry, especially if you have a warm skin undertone or blonde hair. In my opinion, they complement a navy blue dress perfectly and help create a classy and luxurious outfit.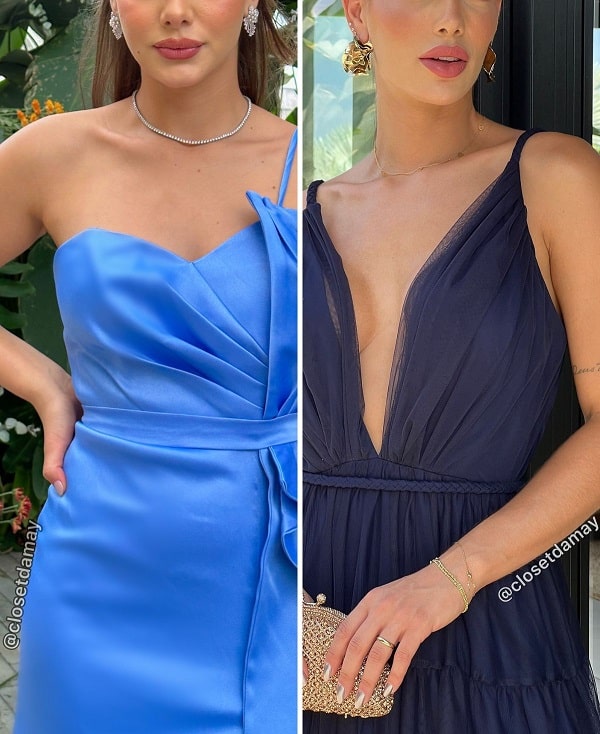 On the other hand, you can choose jewelry with details in the same color as your dress. Blue earrings in a similar or lighter/darker shade are an excellent choice for an elegant look that keeps the focus on your dress.
Pink or emerald green earrings are another option for a bolder look. In this case, you can even pair them with a necklace or clutch bag in the same color.
As for the type of earrings, I love the elegance and versatility of teardrop earrings! Perfect for bridesmaids, you can choose from silver, gold, or colored ones to add a bit more flair to your look.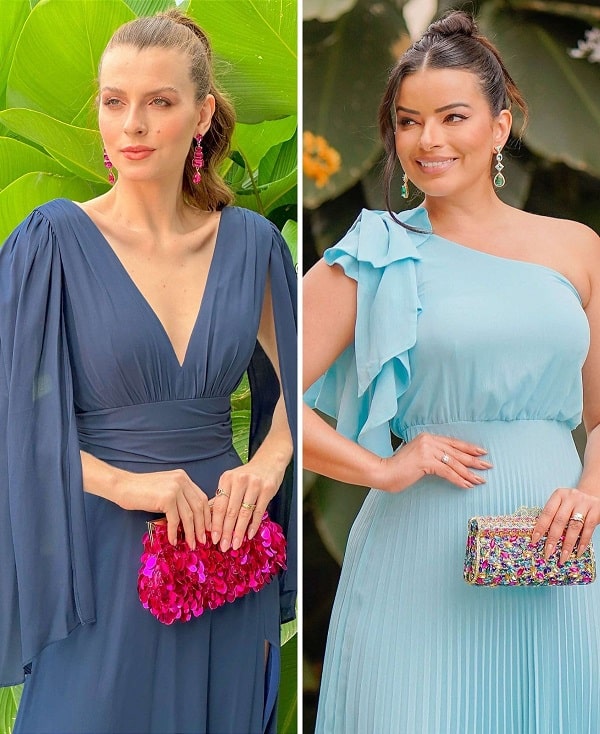 For those who prefer a more subtle look, hoop earrings are also a classic choice! Just remember to pick small or medium-sized hoops to keep that elegant look on point.
Another sophisticated option is fringe earrings. They're super versatile and add a unique elegance to any outfit. Plus, they'll add movement and an irresistible charm to your look, perfect for a special night out or fancy event!
But if you want to keep up with the trends, ear cuff earrings are the way to go with your blue dress! They're perfect for a night out and work great for those with short hair or anyone who plans to tie their hair up for the occasion.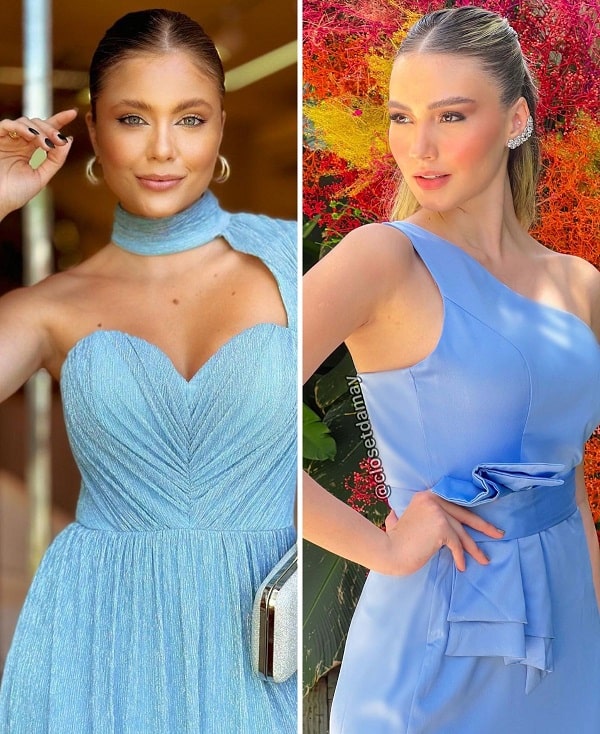 As for necklaces, remember to pick more subtle options when wearing bolder earrings. If you're wearing blue, pink, or green earrings, you can also choose a necklace with details in the same color.
Always consider the time of day when choosing your jewelry! For example, for an evening party, earrings can be eye-catching and more sophisticated. For a daytime wedding, on the other hand, I recommend more subtle and elegant options.
Purse
Whatever shade your blue dress may be, you can't go wrong pairing it with a silver or gold clutch. If you want to keep all eyes on your dress, neutral-colored clutches (silver, gold, white, or black) are the right choice for a more understated yet elegant look.
While silver accessories exude sophistication, you can't ignore the allure of a blue dress paired with a gold clutch bag. It's a luxurious combo that's sure to turn heads!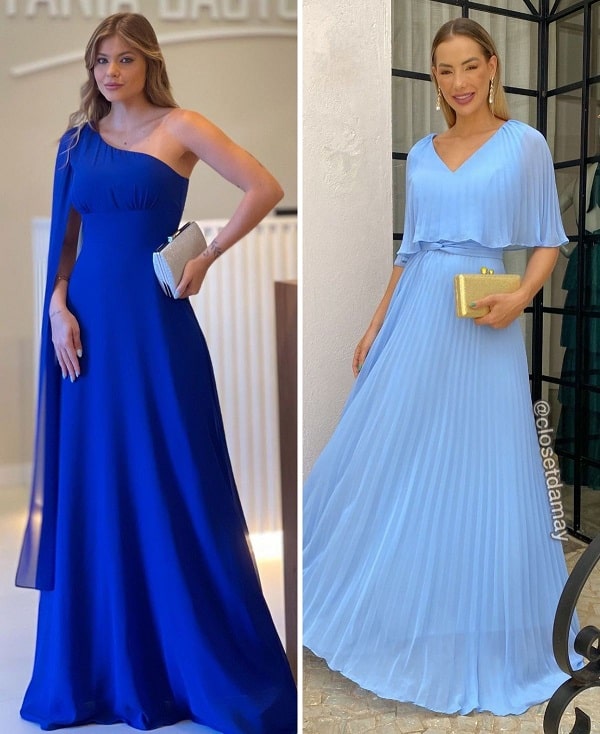 On the other hand, you can keep things subtle and elegant by choosing a clutch in the same color as your dress. Just like with jewelry, I'd suggest picking a purse in a lighter or darker shade to add some contrast.
For example, if you're wearing a light blue dress, a navy blue clutch is an excellent choice for a sophisticated look, especially if you also opt for silver jewelry or heels.
Now, if you're feeling more adventurous, there are plenty of other options to spice things up! A hot pink, fuchsia, orange, coral, lavender, purple, or even a colorful clutch (mother-of-pearl or embellished) will pair beautifully with your blue dress, creating a bolder look.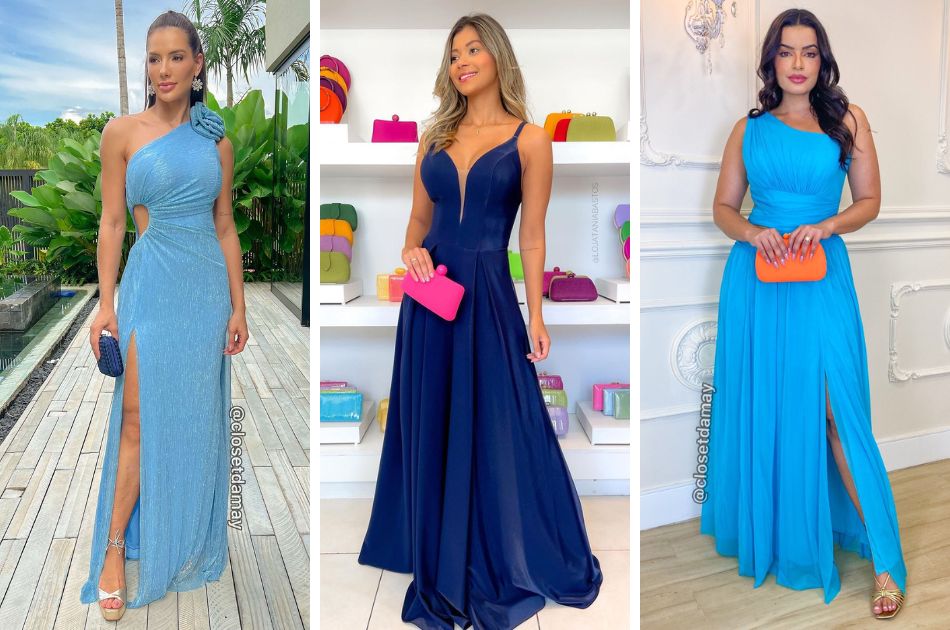 If you have a blue dress with silver embroidery, choose a silver clutch to keep the look elegant. On the other hand, if you're wearing a floral dress, choose a clutch in one of the colors, usually the one that stands out the most.
This is an easy way to ensure your purse complements your outfit without stealing the spotlight from your dress!
As for purse style, you can never go wrong with a small clutch! If your blue dress is plain, pick a glittery or embellished one to glam up your look.
On the other hand, if you're wearing a blue sequin dress, I recommend a more subtle clutch bag to balance out the outfit.
See also: 8 Best Purse Colors That Go With a Blue Dress
Shoes
Whether it's a light blue or royal blue dress, you can't go wrong with nude shoes. If you want something less flashy but just as classy, nude strappy sandals are the best choice to keep your party dress in the spotlight.
That's why they're perfect for any formal occasion, whether it's a wedding or a fancy night out. Plus, nude heels in a shade that matches your skin tone will make you look taller and elongate your silhouette!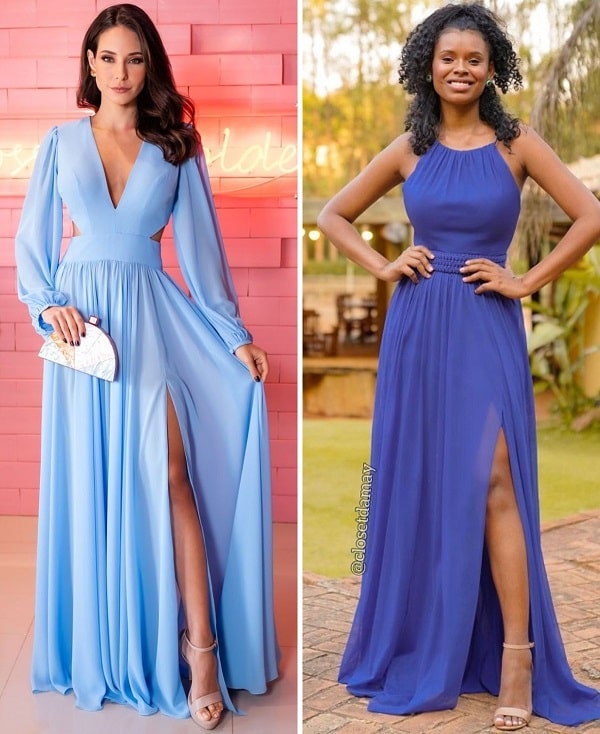 Metallic shoes, such as silver or gold, also go with everything! Versatile and elegant, they are perfect for formal events, whether during the day or at night.
If I had to pick a color, I'd go for silver heels! They pair perfectly with cooler tones like blue and help create a modern and sophisticated look.
But that doesn't mean you can't wear gold shoes! They're perfect for adding that extra touch of glamour to your look, especially if you're also wearing gold jewelry.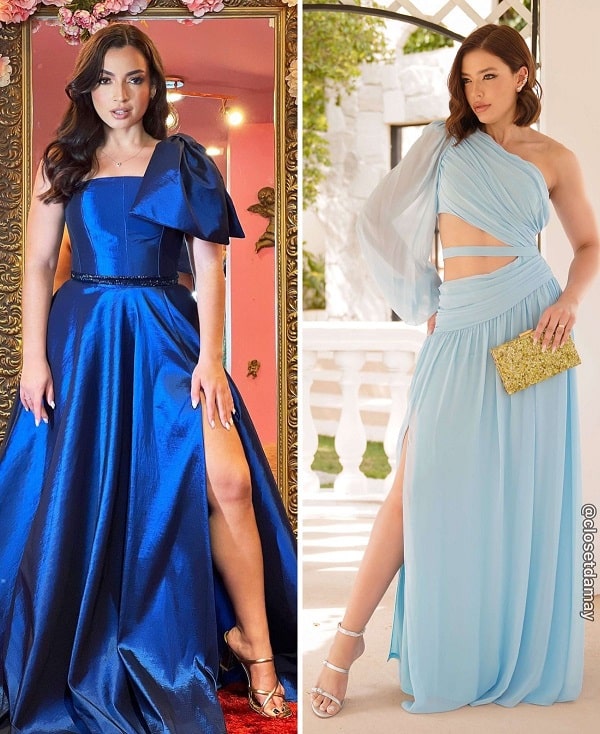 White heels are also an excellent choice for a lighter and more romantic look, especially for an outdoor wedding.
But if you're heading to a more formal evening party, black heeled sandals or pumps are also an excellent choice for a bolder and more glamorous look!
If you want to dance all night and stay comfortable, block heels are the best choice, especially for an outdoor event like a wedding. Stiletto heels may not be a good idea as they can sink into the grass or sand.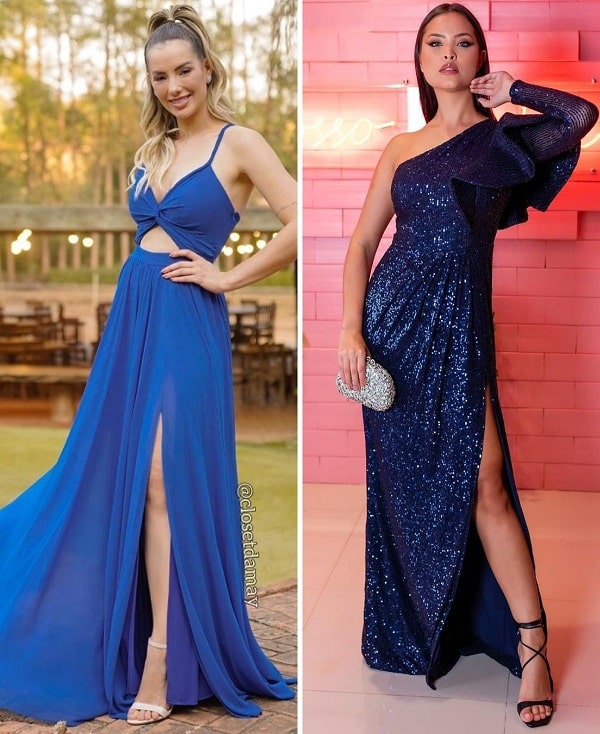 As far as shoe styles go, you can't go wrong with heeled sandals. They're versatile and elegant, making them the perfect choice for bridesmaids or anyone who wants to keep things classy.
On the other hand, pumps are also a timeless choice. They look great with a mini, midi, or maxi blue dress, especially for parties in the colder months.
Finally, flats are a smart choice for casual parties or outdoor events. They let you dance the night away while staying comfortable!
Nail polish
Before we wrap up this guide, let me share the best nail polish colors for your blue dress!
No matter the occasion or your dress color, nude nails or a French manicure are always a winner! Along with a pale pink, white, brown, or gray nail polish, these are perfect for a more understated look that will keep all eyes on your stunning dress.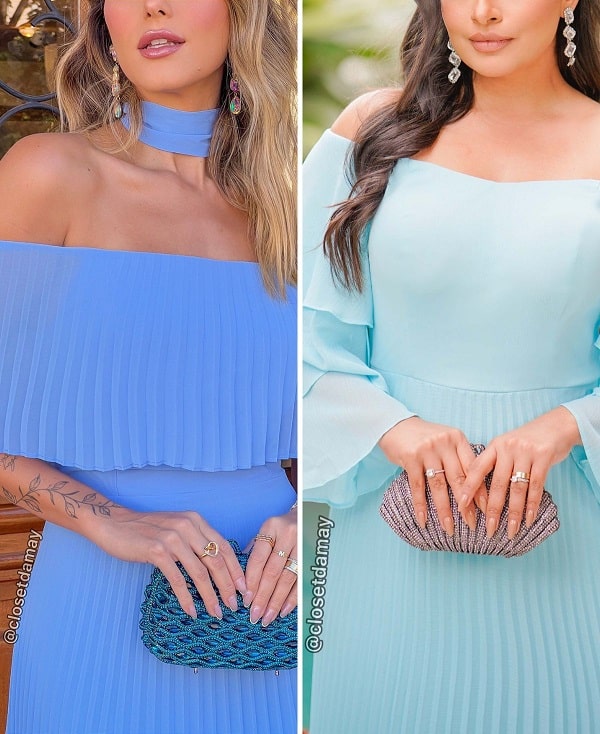 However, many other nail colors can look stunning! Black, red, or silver nails, for example, are classic and versatile options for a bold look, especially for a fancy night out.
Another great idea is to match your nail polish to your dress, but in a different shade. For example, if you're wearing a royal blue dress, a turquoise or light blue nail polish will look fantastic!
But if you want to add a pop of color to your outfit, you can go for a hot pink, lavender, purple, coral, orange, or even yellow nail polish!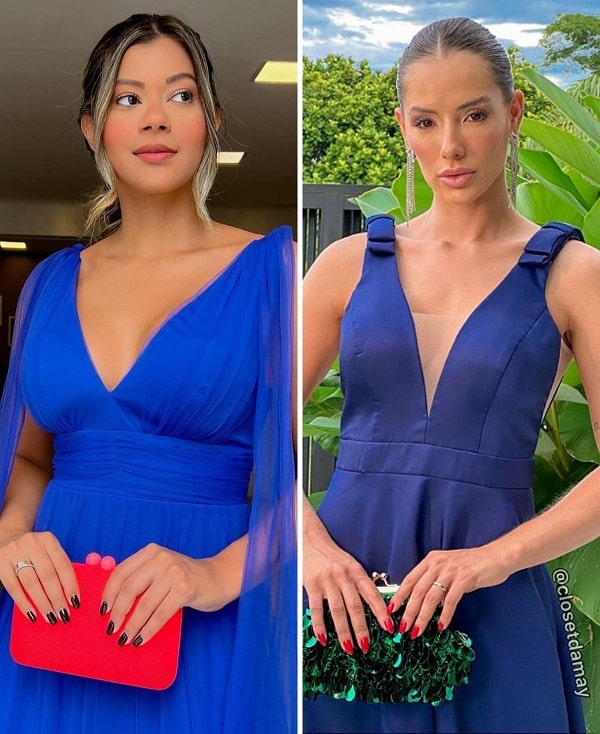 Explore all these options and more in my guide on the best nail colors for blue dresses. I'm sure you'll find the perfect match!
You might also like
Featured image: Tania Bastos