Not sure what color accessories to wear with a coral dress? Don't worry, this guide has you covered! Whether it's a wedding, prom, or fancy event, we've got the best ideas for jewelry, purses, shoes, and even nail polish to make you shine on these special occasions!
Whether you want to go subtle or bold, you'll find plenty of inspiration below to help you choose the perfect accessories for the occasion and your style!
What color accessories go with a coral dress?
The right accessories can transform any outfit, adding elegance and sophistication. But remember to choose them carefully, considering the occasion and season.
Let's dive in and discover the best jewelry, clutches, shoes, and nail polish colors to complement your coral dress!
Jewelry
So, what color earrings should you wear with a coral dress?
A classic option is silver or gold jewelry, perfect for occasions that call for formality and elegance. These accessory colors are the best choice for creating an understated look that keeps the focus on the dress.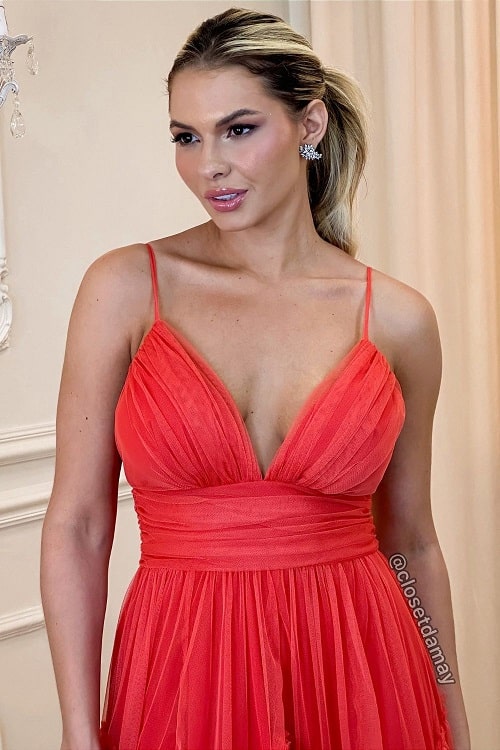 If I had to choose, I'd go for gold jewelry. Not only does it beautifully complement the warm hue of a coral dress, but it also adds a touch of sophistication and luxury.
Tip: Gold earrings are perfect for those with a warm skin undertone or blonde hair. On the other hand, if you have a cool skin undertone or dark hair, opt for silver jewelry instead.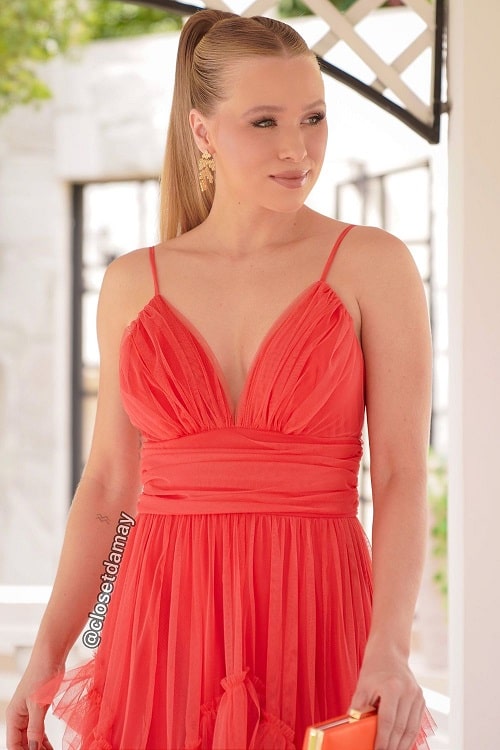 If you're feeling more adventurous, pick jewelry with green, blue, pink, or even lavender details. In this case, you can create a sophisticated look by pairing it with a matching clutch!
For example, you can create an elegant look with an emerald green clutch and earrings with details in the same color. Alternatively, you can do the same by choosing colors like navy blue, hot pink, fuchsia, or lavender!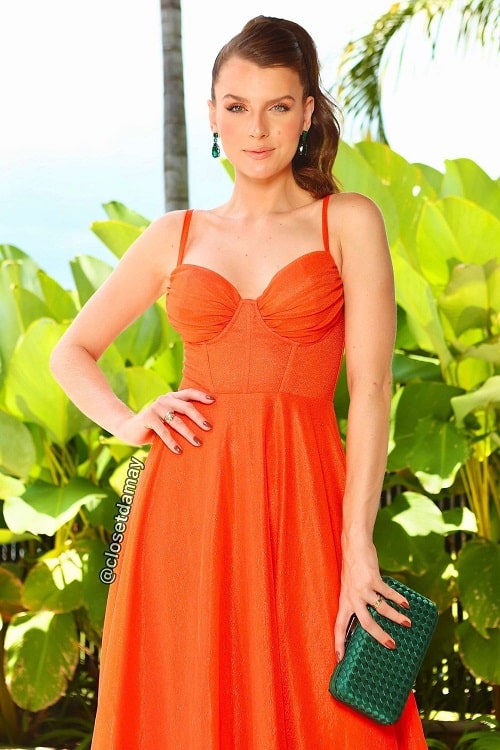 Finally, since a coral dress is perfect for a wedding or formal event in the warmer months, don't limit yourself to drop or fringe earrings. Flower-shaped jewelry is in vogue and will add a delicate and romantic spring-like touch to your look.
Shoes
First, let me tell you that you can't go wrong by pairing your coral dress with nude shoes. Versatile and elegant, nude heels are perfect for any formal occasion and keep your look more subtle and delicate.
Like silver or gold shoes, they are the best choice for bridesmaids or anyone who wants to keep the focus on the dress. Plus, nude heeled sandals in a shade close to your skin tone will lengthen your silhouette and make you look taller!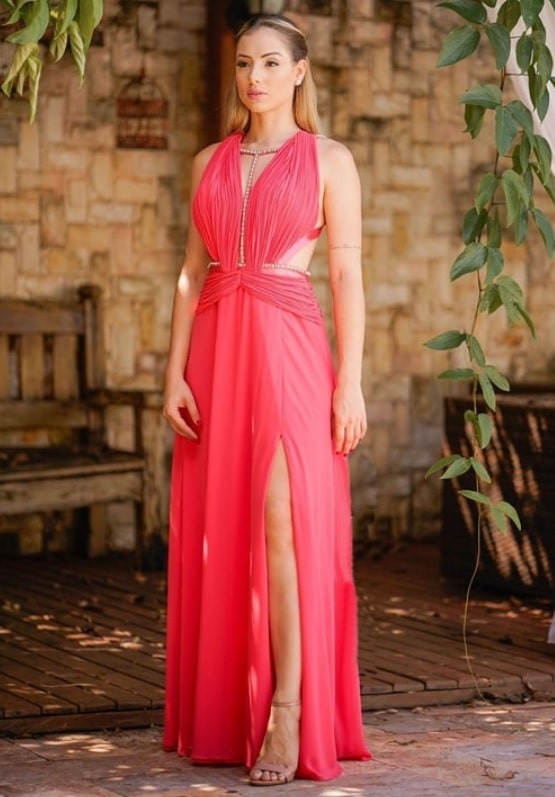 But if there's one shoe color I love to see with a coral dress, it's gold. Gold heeled sandals will perfectly complement the warm tone of your coral dress and give you an even more sophisticated and luxurious look.
On the other hand, if you're wearing a coral dress in a lighter shade, you can also choose white heels. Although more contrasting, they're perfect for creating a romantic summer look.
Last but not least, let's not forget about black shoes! Black heeled sandals or pumps are a gorgeous and versatile choice to dare more, especially if you're attending a fancy evening party.
See also: 5 Best Shoe Colors That Go With a Coral & Orange Dress
Purse
In my opinion, the right clutch for your outfit will always be the one that makes you feel the most beautiful and comfortable. But before choosing, it's always important to consider the occasion, the time of day, or even the season.
This is especially true for bridesmaids. On such a special day, all eyes should be on the bride, so choose a clutch in a more subtle color.
If this is your case, a gold or silver clutch is an excellent choice because it looks elegant and luxurious without being too eye-catching.
But hey, there are plenty of other options to go bolder!
If you're not afraid to dare, pick an emerald green, navy blue, purple, lavender, hot pink, fuchsia, or colorful clutch bag instead!
Nail polish
Since nail polish is also an accessory, I couldn't end this guide without sharing the best nail color ideas for your coral dress.
If you're not sure, nude nails are always a safe bet. They're perfect for any formal occasion and help create an elegant and delicate look.
Another versatile nail polish color that keeps the focus on your dress is white. You can use it to create a classic French manicure and add an extra touch of sophistication to your look.
But if you want to go bolder, pick a red nail polish! It blends perfectly with the warm hue of your coral dress and adds a romantic touch to your look.
Black, silver, gray, and brown nails are also timeless choices for a sophisticated look. If you're looking for a pop of color, try lavender, navy blue, or purple nail polish.
For more nail colors that go well with a coral dress, check out the guide with the best nail polish color ideas (with outfits to inspire you).
You might also like
Featured image: Tania Bastos