Are you going to wear a blue dress and don't know what makeup to wear? If so, you've come to the right place! In this guide, I've got you covered with the best eyeshadow and lipstick color suggestions to create a stunning party look!
Whether for a navy blue or light blue dress, you'll find all the inspiration you need to create the perfect look for a wedding, prom, or glamorous night out.
And to make sure you have everything you need, we've teamed up with professional makeup artist Sílvia Rafael, who's here to share all her tips for subtle and bold makeup styles!
Let's get started!
Who is our expert? Sílvia Rafael is a certified professional makeup artist specializing in bridal makeup. Her expertise includes a comprehensive background in blending techniques and color theory.
What makeup goes with a blue dress?
When choosing the right makeup to complement a blue dress, it's important to consider the occasion. Details such as the event you're attending or the time of day can make a big difference in finding the right eyeshadow and lipstick color for your look.
Let me give you an example: if you're going to be a bridesmaid, it's best to go for a light and more natural makeup, keeping the focus on your dress and the true star of that day: the bride.
On the other hand, for a glamorous evening party, you can dare more by choosing metallic eyeshadows or lipstick shades that are more intense and eye-catching!
But no matter the occasion, there're plenty of suggestions and inspiration below to help you create the perfect makeup look to go with your blue dress!
Eyeshadow
The eyeshadow colors that work best with a dark blue or navy blue dress are nude and brown. If you're going for a lighter, more natural makeup look that keeps the focus on your dress, you can't go wrong with the subtlety of these shades.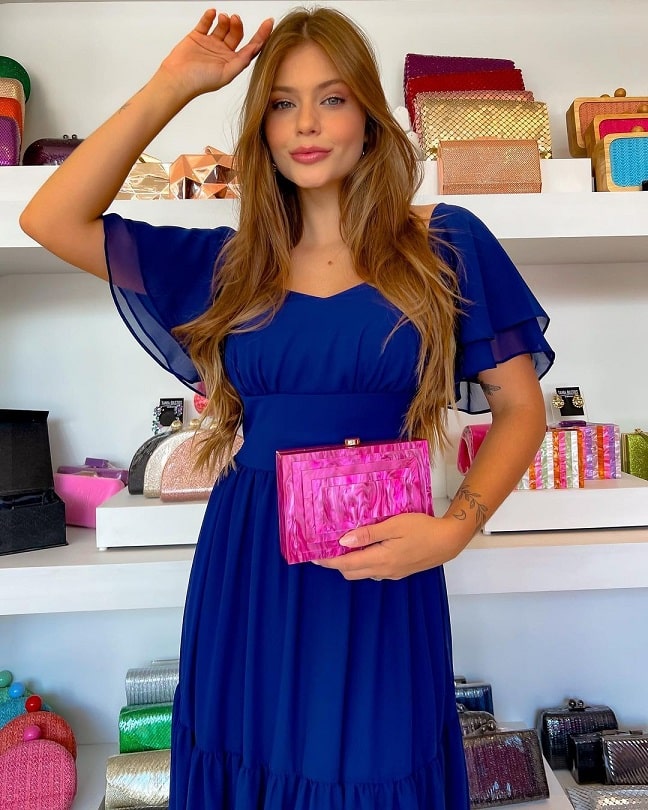 In this case, you can also go for smokey eyes with a hint of blue eyeshadow for an extra touch of sophistication!
To do that, you can choose a shade similar to your dress to create a monochromatic gradient. Or you can opt for analogous colors, choosing a lighter or darker shade of blue.
But if you want a more glamorous look, our professional makeup artist suggests using blue eyeliner or adding silver glitter to your eye makeup. These details will light up your eyes and give you a daring nighttime look that pairs perfectly with a dark blue dress!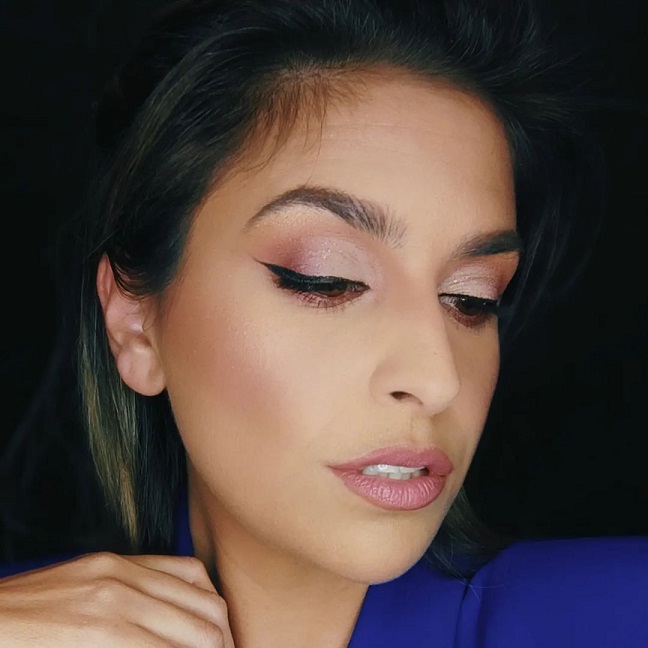 If you're getting ready for a special event, black smokey eyes are a timeless choice for a glamorous look that will turn heads! If you're going for it, opt for a softer lipstick shade to balance things out so your makeup doesn't feel too intense.
Finally, when it comes to a light blue dress, the best eyeshadow colors are also nude and brown. These shades will perfectly complement the delicate and soft feel of your dress, giving you a look that's all about elegance and romance!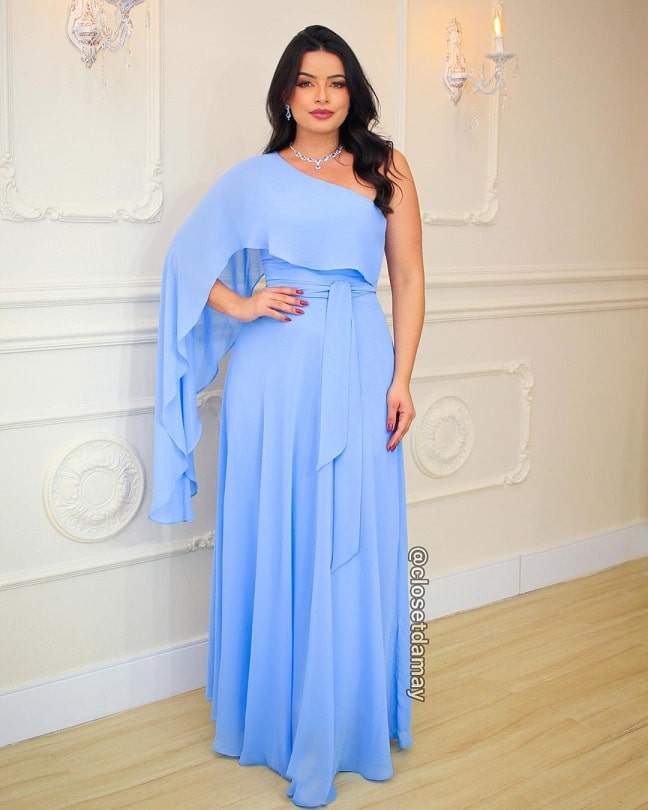 Lipstick
When wearing a blue dress, the best lipstick color for you depends on your skin tone. However, it's always important to consider the shade of your dress, as some lipstick shades can create a makeup look that's too heavy, especially if you're wearing a light blue dress.
That said, the lipstick colors that go best with a dark blue or navy blue dress are:
Light skin tone: nude, burgundy, violet, taupe, wine, or coral
Medium skin tone: cherry red, violet, nude, or pale pink
Dark skin tone: nude, burgundy, or eggplant
Tip: To make sure your makeup stays flawless from start to finish, it's important to choose waterproof products. Also, don't forget to keep your lipstick in your purse so you can touch it up if necessary.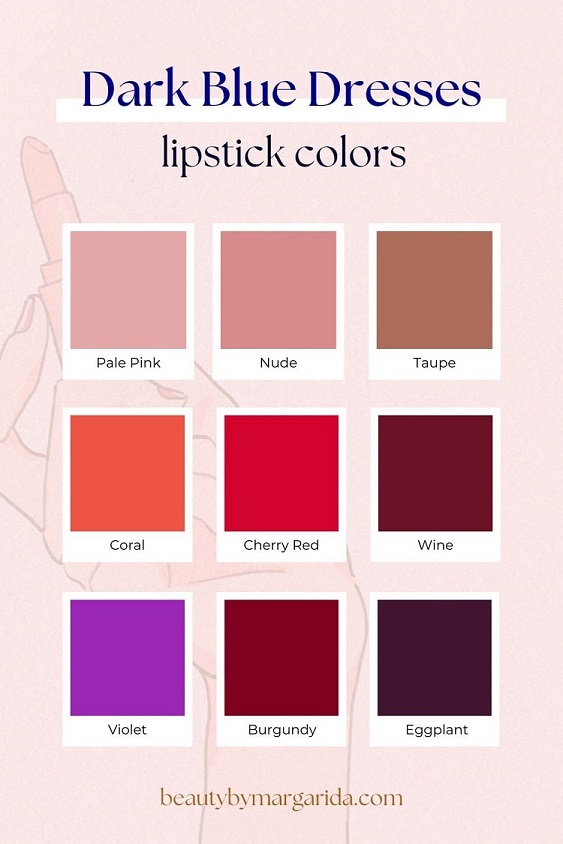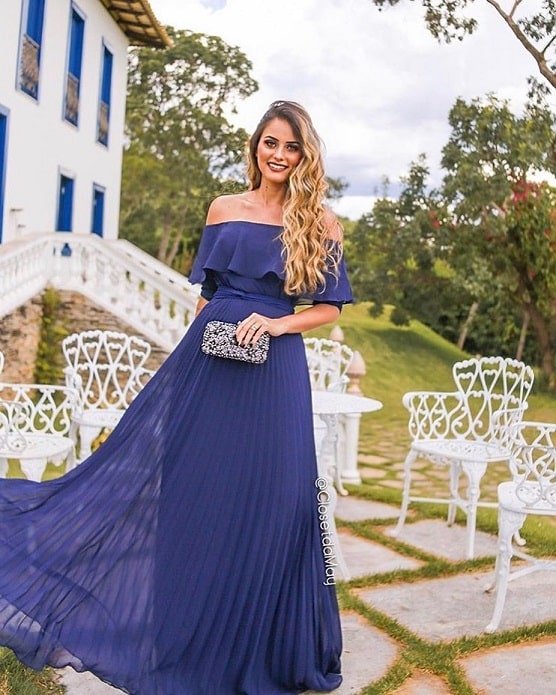 On the other hand, the best lipstick colors for a light blue dress are:
Light skin tone: nude, taupe, wine, or soft coral
Medium skin tone: cherry red, nude, pale pink, or rose gold
Dark skin tone: nude, hazelnut, brown, burgundy, eggplant, or pale pink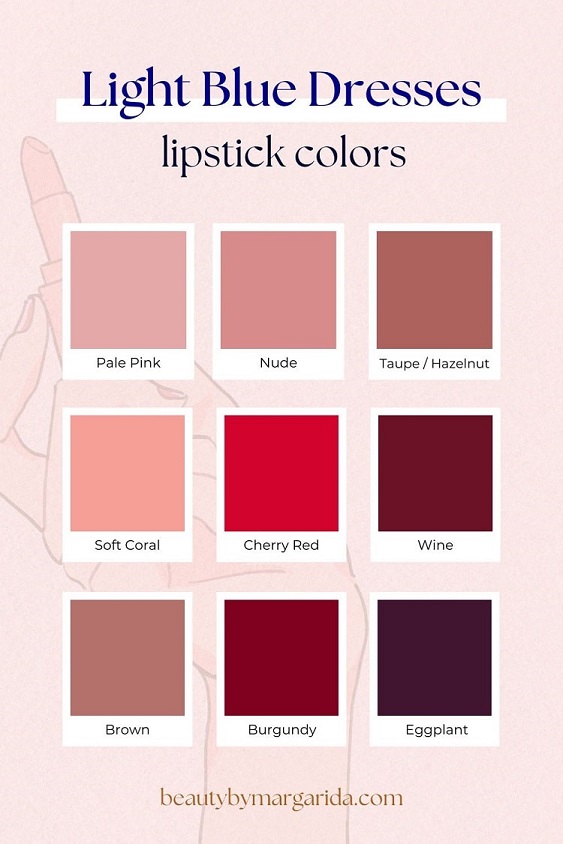 As you may have noticed, nude lipstick is always a go-to option. Regardless of your dress color or skin tone, it's the safest choice for your lips, especially if you're a bridesmaid or want a more subtle look.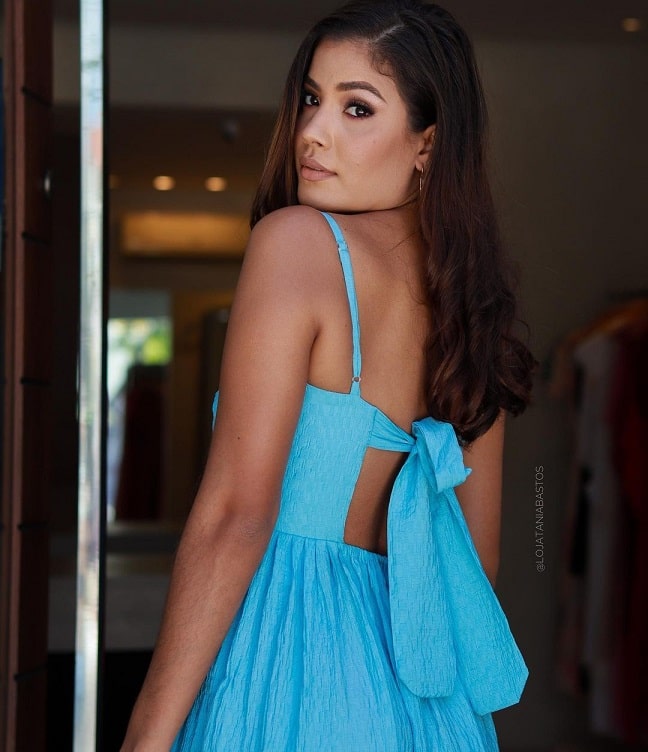 But if you're feeling more daring, a burgundy, wine, violet, or cherry red lipstick is an excellent option to glam up your look for a fancy night out!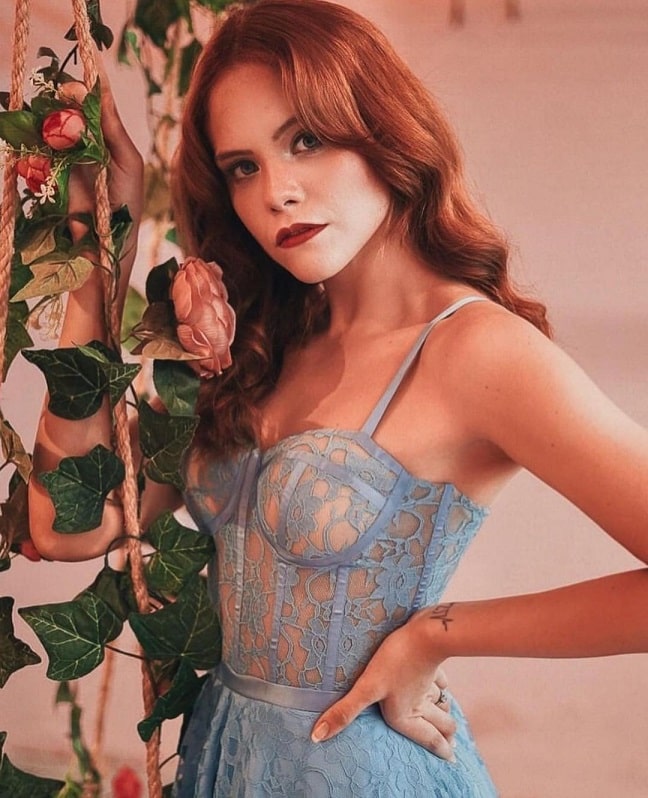 For a spring or summer wedding, a coral lipstick in a soft shade will perfectly match the light and breezy vibes of the season, creating a romantic and feminine look. Plus, it'll allow you to go bolder with your eye makeup!
Anyway, picking the perfect lipstick and eyeshadow color really comes down to what you love. These are the best choices for a blue dress, but what truly matters is that you feel beautiful and confident with the makeup you decide to wear!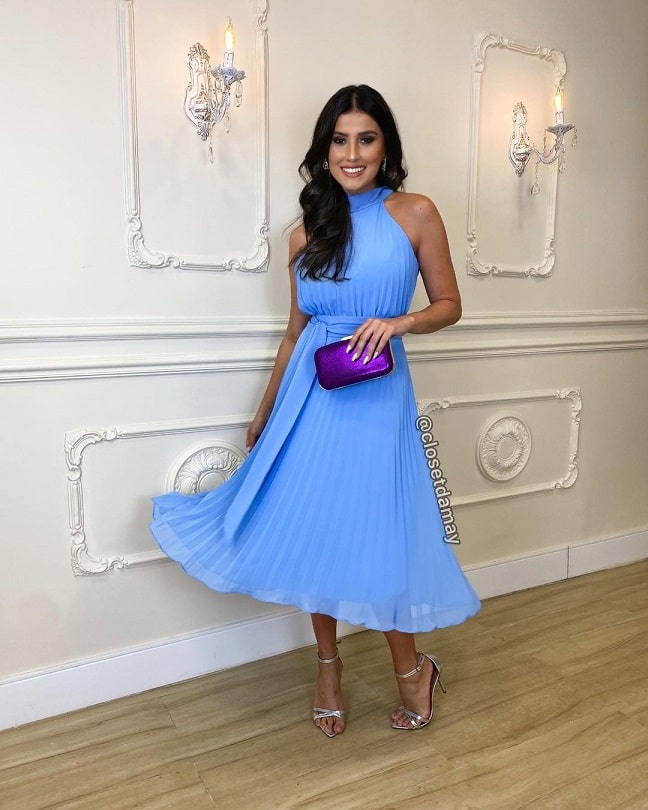 Need help choosing the right nail color for your blue? Check out my latest article featuring the best nail polish suggestions for any occasion!
You might also like
Featured image: Tania Bastos