The right accessories have the power to transform any look! If you're not sure what jewelry, purse, shoes, or nail polish to wear with your hot pink dress, this style guide has the best ideas to help you create a flawless look.
Whether it's a wedding, prom, or a fancy night out, I've got plenty of outfit ideas to inspire you and make you look your best wherever you go!
What color accessories go with a hot pink dress?
Before you pick out the perfect accessories for your hot pink dress, remember to think about the event venue, the time of day, the style of your dress, and your own personal style.
To make it easy for you, I've divided this guide into four parts: jewelry, purses, shoes, and nail polish. In each part, you'll find ideas for both subtle and bold looks, perfect for everything from formal events to casual parties.
Let's have fun putting together the perfect outfit!
Jewelry
If you want all eyes on your dress, go for silver or gold jewelry. They're the perfect choice for those fancier parties!
And here's a tip: If you have a cool skin undertone or dark hair, choose silver jewelry. Not only does it give you a sophisticated look, but it also creates a subtle contrast that makes your vibrant dress color pop even more.
On the other hand, gold jewelry is an excellent choice for those with blonde hair or a warm skin undertone. Pairing a hot pink dress with gold earrings will add even more elegance and glamour to your outfit, giving it that luxurious feel that won't go unnoticed!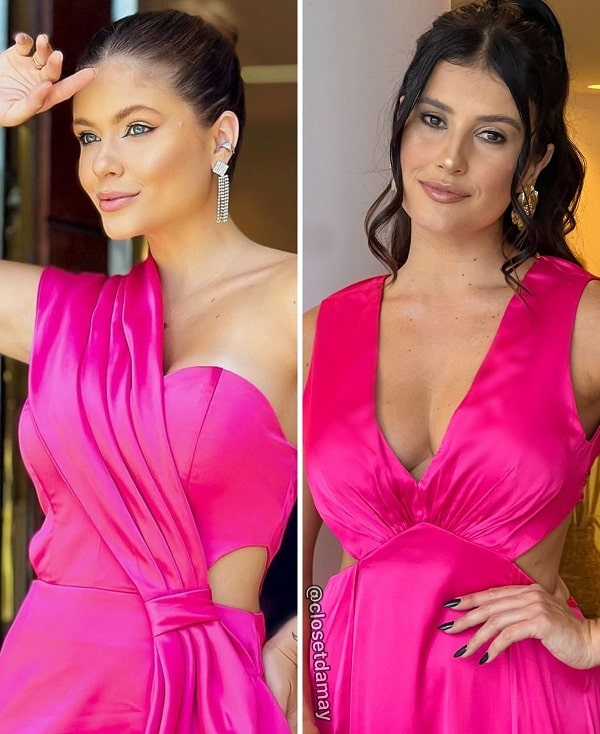 Jewelry with details in the same color as your dress is another classic option for a truly romantic look, perfect for events like spring or summer weddings.
In this case, you can choose drop earrings with details that match the exact shade of your dress or in a lighter hue. Either choice will ensure that all eyes remain on your dress, giving you an elegant and sophisticated look.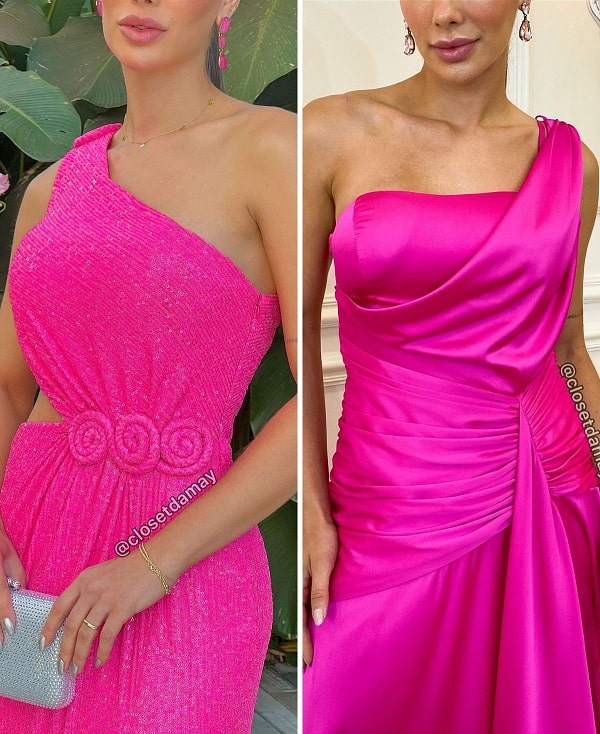 If you want to add more color and boldness to your outfit, you can also opt for emerald green or blue earrings. In this case, you can pair them with a necklace or clutch in the same shade for a stylish and well-coordinated look.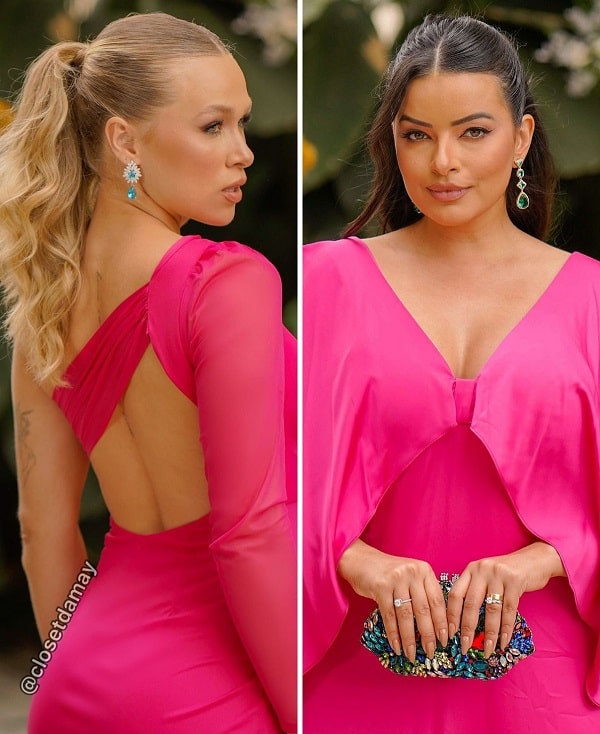 Now, let's talk earring styles! Drop earrings are elegant pieces that can effortlessly complement any outfit and are versatile enough to suit any occasion, from formal events such as weddings to more casual events.
Never out of style, hoop earrings are also a timeless and versatile option that creates an elegant look. At the same time, fringe earrings are a sophisticated choice for more glamorous events, adding movement to the overall look.
But if you're up for something bolder, ear cuffs are a trendy and stylish choice to achieve a sophisticated look!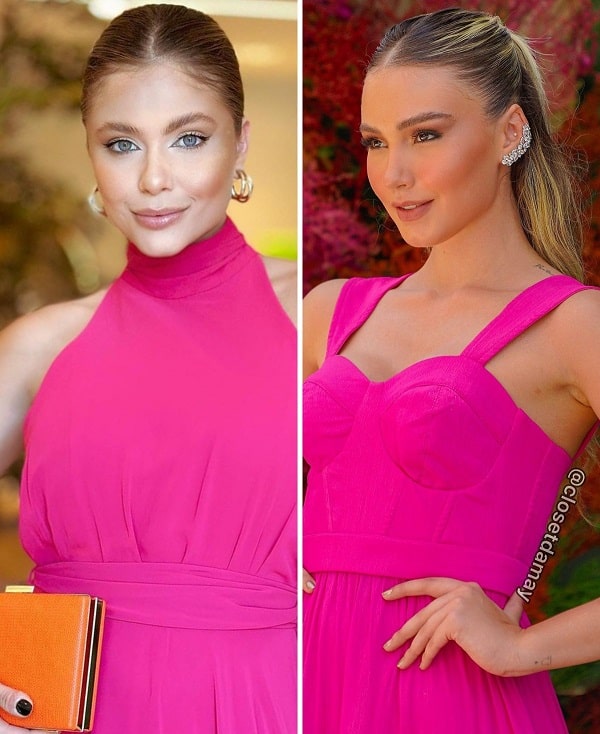 As for necklaces, I suggest going for understated designs if you're wearing more eye-catching earrings. If your earrings have blue or green details, you can wear a matching necklace for a perfectly coordinated look!
Purse
As for the purse, my recommendation is to go with a small clutch bag. If you want to keep the spotlight on your hot pink dress, a silver, gold, white, or pink clutch is the perfect choice for an elegant look.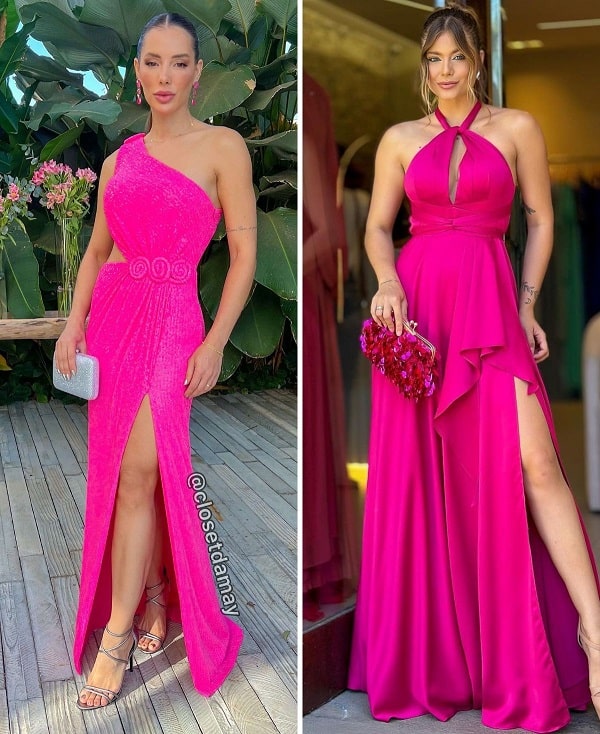 For a pop of color, pick an emerald green, light blue, orange, yellow, or even a colorful clutch bag instead.
If your dress is plain, you can go bolder with a mother-of-pearl or embellished clutch. But if you're wearing a sequin dress, opt for a more subtle clutch so you don't overdo it.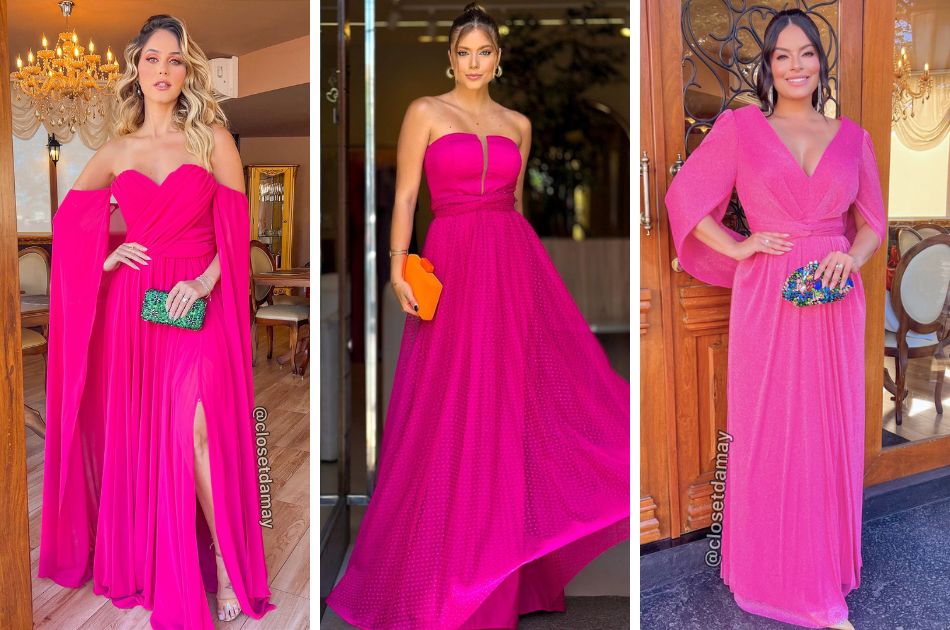 If you're wearing a hot pink dress with silver embroidery, choose a clutch in the same color to keep your outfit classy and coordinated. And with a floral dress, choose a clutch in one of the colors that stands out the most.
Looking for more outfit ideas and inspiration? Check out our article on the 10 best purse colors to pair with hot pink dresses!
Shoes
Before choosing the right shoes to wear with your hot pink dress, it's important to consider the formality of the event and your own personal style before making the final decision.
However, let me tell you that you can't go wrong with strappy heeled sandals, especially for a spring or summer party!
As for the shoe color, silver and gold heels are classic and elegant options for formal events like weddings. Choosing strappy sandals or pumps in these metallic shades will create a timeless and sophisticated look that will make you stand out on any special occasion.
If I had to choose, I'd go for gold shoes. In my opinion, they're the perfect complement to bold colors like hot pink!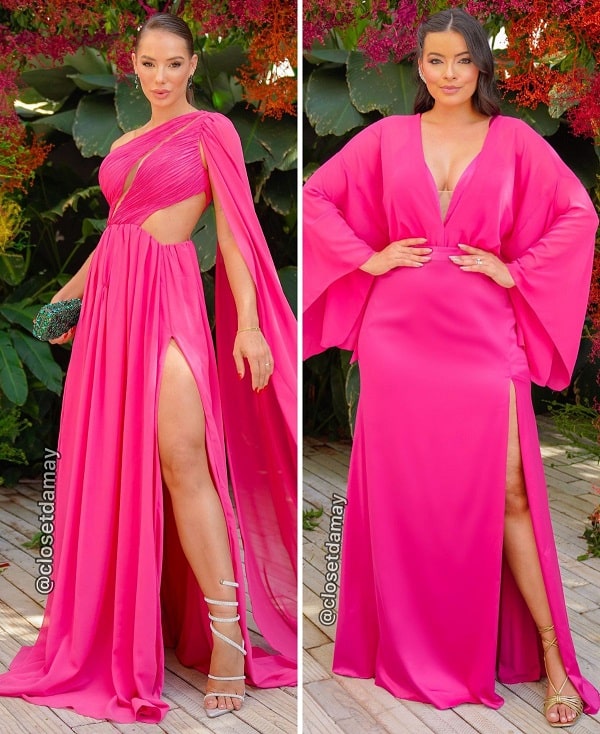 Nude heeled sandals are another fantastic pick if you want all eyes on your dress! And here's my tip: choose nude heels in a shade close to your skin tone to lengthen your silhouette and look taller!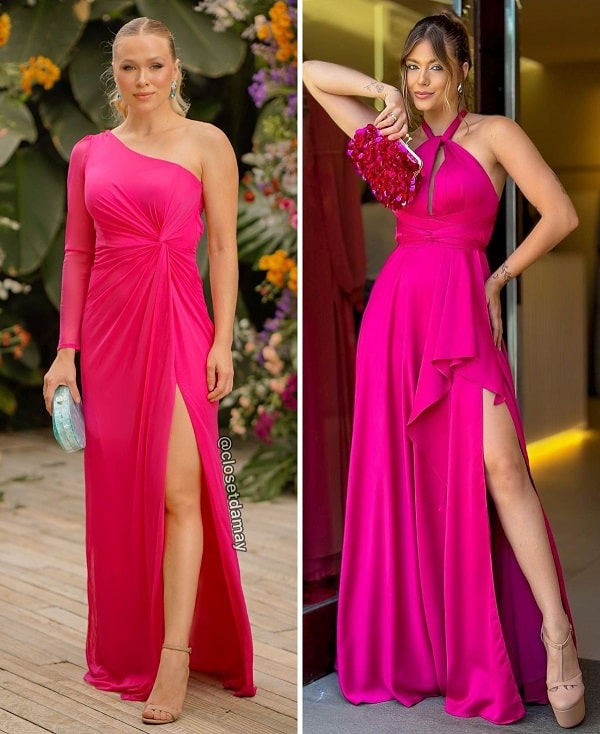 Black strappy sandals or pumps are also an option for a bold and elegant evening look. However, keep in mind that they create more contrast and may steal some of the spotlight from your dress.
If you're aiming for a more understated yet elegant look, I suggest you go for nude, metallic, or even white shoes. White heels are also perfect for a party in the warmer months since they create a more delicate and romantic look!
See also: 7 Best Shoe Colors That Go With a Hot Pink & Fuchsia Dress
Nail polish
I couldn't wrap up this guide without telling you what nail polish colors complement a hot pink dress!
If you want to keep things classy, nude nails or a French manicure are the best choices to keep the focus on your dress and create an elegant look.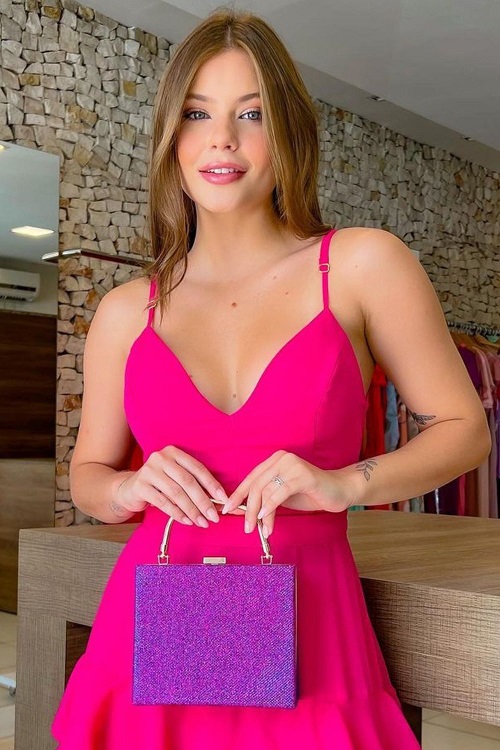 Another elegant and timeless choice is red, black, and silver nail polish. Red nails, for example, pair beautifully with gold or emerald green accessories, resulting in a truly glamorous outfit.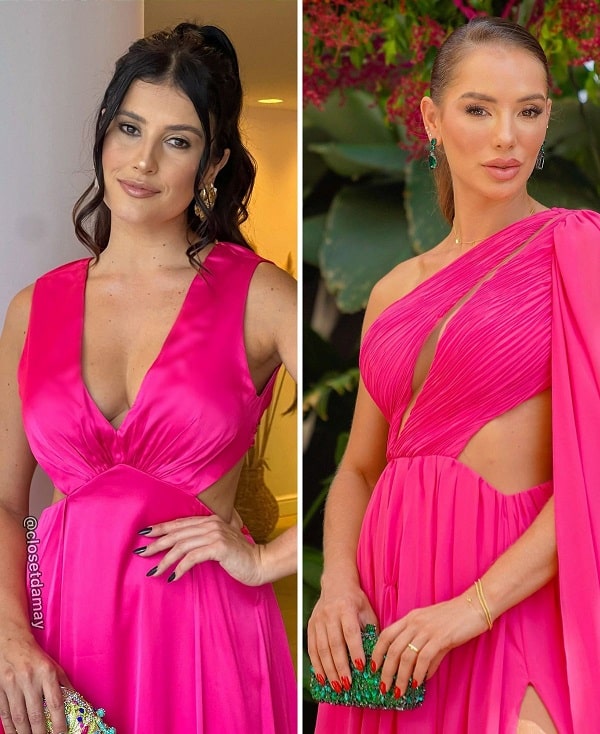 But if you want to add a pop of color, you can also choose blue, burgundy, orange, coral, lavender, or yellow nail polish. This will give you a more fun and playful look!
Discover the perfect nail color by exploring the full article on the best nail polish color ideas for hot pink dresses!
You might also like
Featured image: Tania Bastos