If you're looking for the perfect nail polish to match your light pink dress, you've come to the right place! From the most subtle to the most daring, you will find below the best nail color suggestions for a flawless look!
You can pair your light pink dress with a nude, white, brown, or pale pink nail polish for a more subtle and elegant look. Or, if you want a bolder nail color, opt for a red, burgundy, black, mint green, navy blue, yellow, coral, or silver nail polish instead.
Now that you have the short answer, I'll give you all the details on when to choose each color depending on the occasion and which accessories will complement each combination.
Whether you're getting ready for a wedding, a laid-back party, or your everyday routine, I'm sure you'll find the right nail polish color below!
What color nail polish goes with a light pink dress?
First of all, let me tell you that there are no strict rules when choosing the perfect nail polish to match your light pink or blush pink dress! However, it's always a good idea to consider the occasion!
But don't worry because I've got you covered with a range of classic and versatile nail polish colors, as well as some fun and daring options for when you want to make a statement!
Let's dive in!
1. Nude
A nude nail polish in shades of beige, gray, or pink will look amazing with your gorgeous light pink dress and give you a delicate and elegant look that's perfect for any occasion.
At the same time, it's a classic and versatile choice that won't take away the spotlight from your dress. So if you're feeling unsure about which nail color to choose, you can't go wrong with a nude nail polish!
Plus, since it's subtle, you can have fun with your accessories! In my opinion, a chic navy blue clutch bag will look amazing with your dress and add some contrast. And to top it all off, silver earrings will give your outfit that extra touch of sophistication!
2. White
Another excellent option for a more subtle yet elegant look is a white nail polish! In fact, it'll complement the romantic vibe of your light pink dress perfectly and brighten your look even more, making it the right choice for a party during the warmer months.
But you don't have to limit yourself to wearing white nail polish only in the summer. This classic nail color is versatile enough to be worn all year round, and it looks gorgeous on all skin tones!
You can either paint your nails entirely white or opt for a classic French tip. Whatever you choose, keep it simple with silver jewelry and a navy blue clutch bag!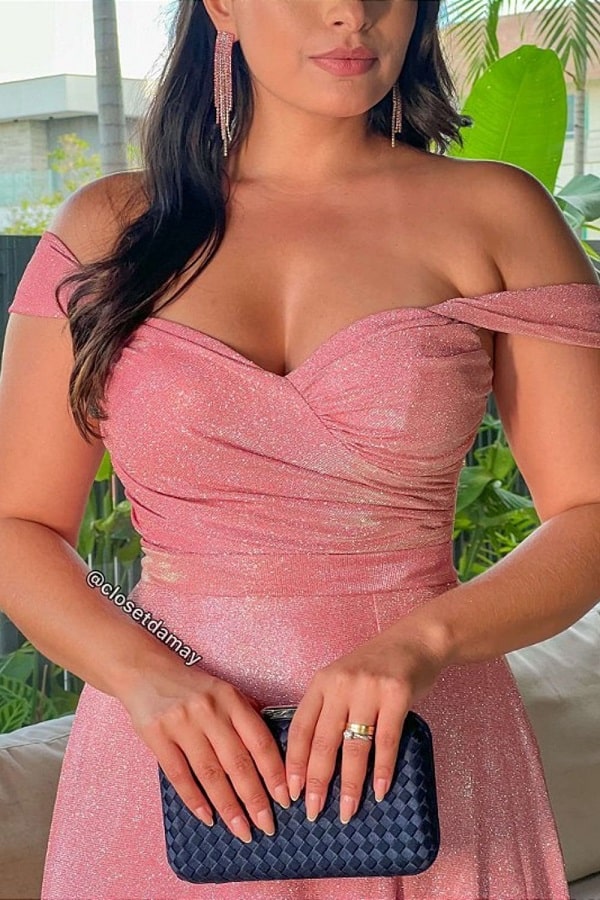 3. Red
If you're feeling bold and daring, you should try pairing your light pink dress with a red nail polish! This classic and versatile color is perfect for making a statement without creating too much contrast with your dress!
You can wear it any time, but it's especially great for a glam night out since it gives a sophisticated look that'll turn heads!
Since it's a more striking nail color, I'd complement this look with gold jewelry, nude heels, and a pink clutch bag to keep things classy!
4. Burgundy
Are you ready to shine and look glamorous? Then, try matching your light pink dress with a burgundy nail polish! It's a versatile and sophisticated nail color that will look amazing for an autumn party, especially if you add gold accessories to your outfit.
Like red nail polish, burgundy is perfect for those who aren't afraid of being the center of attention! As for accessories, it depends on the occasion: for a modern look, go for gold jewelry and a clutch bag in a bolder color, such as emerald green or navy blue.
5. Brown
Taking a break from the bolder nail colors, I couldn't help but recommend a classic brown nail polish. It's perfect for a more understated yet elegant look and versatile enough for any formal occasion!
Plus, it looks great on any skin tone and adds a touch of sophistication to your outfit without being too flashy. If you're worried it might take away from your light pink dress, just go for a lighter, more subtle shade of brown.
You can pair it with silver jewelry and a hot pink clutch bag for a romantic and feminine look. As for shoes, it's up to you, but you can't go wrong with nude heels!
6. Black
If you're feeling daring, you can also pick a classic black nail polish! This nail color is perfect for a more sophisticated look and will create a striking contrast with your light pink dress.
However, although versatile and elegant, this more eye-catching nail color may take away some of the spotlight from your dress. If you want to keep your look more subtle and delicate, opt for a nude nail polish or a classic French manicure instead!
For a chic look, you can complement this combo with silver accessories, whether it's jewelry, shoes, or a clutch bag.
7. Pink
If you're heading to a formal daytime party and want a more subtle monochromatic look, a pale pink nail polish is the right choice!
In fact, to keep your overall look classy and elegant, it's best to choose accessories (and nail polishes) in shades close to your dress.
On the other hand, if you're going to an evening party or wearing a shiny pink dress, a hot pink nail polish might just be what you need for a bolder and more glamorous look!
I would complement both options with gold accessories to add extra sparkle to the outfit while keeping it warm and luxurious.
8. Green
It might sound unlikely, but a mint green nail polish is a surprisingly beautiful option for a light pink dress.
The mint green shade adds a touch of delicacy to the look, and you can even opt for earrings in the same color or a light blue clutch to tie it all together!
9. Blue
Always trendy, a royal blue or navy blue nail polish is also an option for a light pink dress, creating a bold yet sophisticated look.
This daring nail color is perfect for a summer party and will make your nails stand out like no other! To balance out its boldness, keep your accessories simple with silver earrings and a clutch bag in the same color.
10. Yellow
Vibrant and cheerful, a yellow nail polish can also be an option for a light pink dress, especially for a party in the warmer months.
If it seems too daring to you, don't worry because there are plenty of shades to choose from! A pastel yellow nail polish, for example, will be an excellent pick to keep your look subtle and more delicate.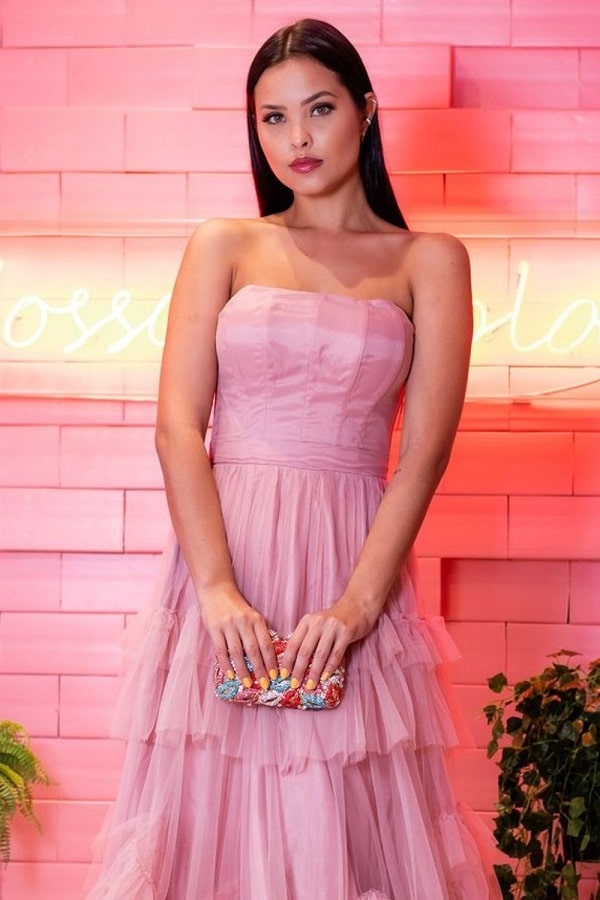 11. Coral
The warm shade of a coral nail polish makes it an excellent choice for a light pink dress, complementing it without creating too much contrast.
Plus, coral is a trendy and elegant nail color that's associated with warmth and positivity, making it perfect for a spring or summer event.
12. Silver
If you're going to a fancy party at night, you have to try matching your light pink or blush pink dress with a metallic silver nail polish. It's a neutral and versatile nail color that always works when you want a modern evening look!
Actually, a silver nail polish will bring more shine and glamour to your outfit, and it's definitely an excellent choice for those who like to go bolder!
For a sophisticated look, you can also pick silver accessories like shoes, jewelry, or a clutch to complement this combo. Alternatively, a green clutch bag is also an option to create a bolder contrast.
Looking for the perfect accessories to wear with your pink dress? Check out my latest article where I share the best shoe, jewelry, and purse options to complete your outfit!
You might also like
Featured image: Ateliê Nosso Cabide