A gold dress is already quite eye-catching, so you must be careful when choosing the right nail polish color to complement it. But don't worry, we've got you covered! From the most subtle to the boldest, you'll find below the best nail color ideas for a flawless look!
Choosing a nude, white, light pink, or brown nail polish is a fantastic way to keep the spotlight on your gold dress while achieving a classy and understated look. However, if you want to go bolder, opt for red, black, navy blue, or even turquoise nail polish to create a more striking contrast.
Now that you have the quick answer, I'll explain in detail when to pick each one based on the occasion. To help you in the best way possible, I'll also share some accessory tips so you can shine wherever you go!
What color nail polish goes with a gold dress?
When wearing a gold dress, it's best to choose nail polishes and accessories that complement it without stealing the spotlight. However, that doesn't mean you can't have fun with contrasting nail colors!
If you're not sure what to choose, don't worry! Whether you want a classy or daring look, you'll find the perfect nail color below to match your outfit.
1. Nude
A nude nail polish will be the best choice to create an elegant look and keep the focus on your gold dress, especially for a sparkling one.
A gold sequin dress, for example, is already quite eye-catching on its own. So, it's best to go for more understated accessories and nail colors to let it shine.
Plus, nude nail polish is a timeless and versatile choice for any occasion, whether it's a fancy party or a night out with friends!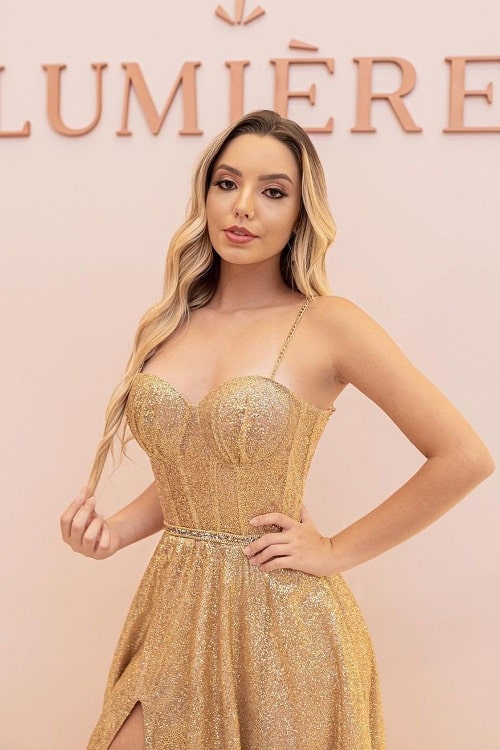 2. White
Another fantastic nail polish color to go with your gold dress is white! It's a versatile option that works beautifully for any occasion, tones down the boldness of your dress, and creates a polished look.
On top of that, you can use it to do a classic French manicure. This is especially great if you want to add a touch of sophistication to your overall look without stealing the spotlight from your dress.
I love French manicures! They are timeless and work perfectly for formal events where you want to exude elegance!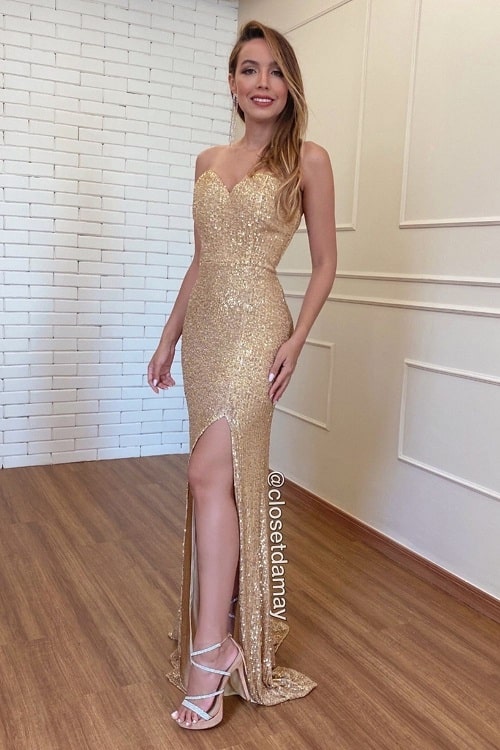 3. Red
If you want to make your nails stand out and create a bolder look, you can't go wrong by pairing your gold dress with a red nail polish in a brighter shade. This is the perfect choice for a daring look that is sure to turn heads wherever you go!
However, there are more understated (yet equally sophisticated) alternatives for a more subtle and classy look, such as a red nail polish in a deeper shade or close to wine or burgundy. If you ask me, these options are quite glamorous for a fancy party!
But if you really want a bolder look to stand out from the crowd, a bright red nail polish is the perfect choice with a gold dress, especially if you also opt for black heels.
See also: 4 Best Shoe Colors That Go With Your Gold Dress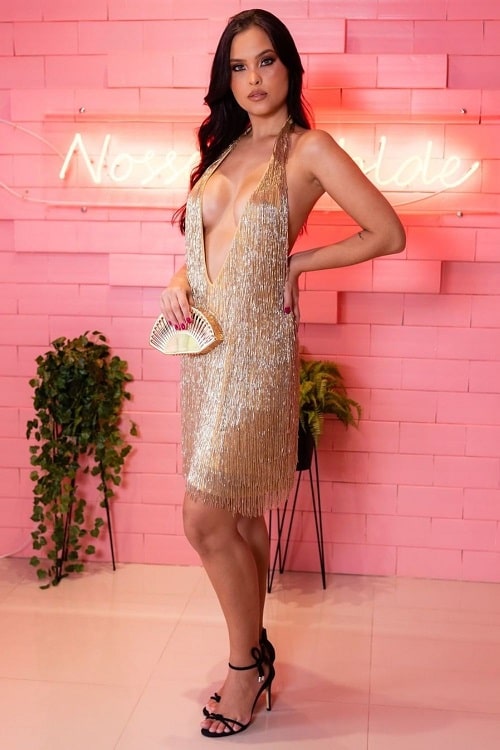 4. Pink
One of my favorite nail colors to pair with a gold dress is pink. It's perfect for creating a romantic and feminine look! Opting for a light pink or nude pink nail polish is an excellent way to balance the boldness of your dress and add even more elegance to your outfit.
This nail color is subtle and classy, making it a gorgeous choice for any formal occasion. Plus, it allows you to have more fun with your accessories, especially when choosing the purse!
If your dress is plain, don't hesitate to get creative by pairing it with an embellished clutch bag, especially if you're attending a fancy evening party!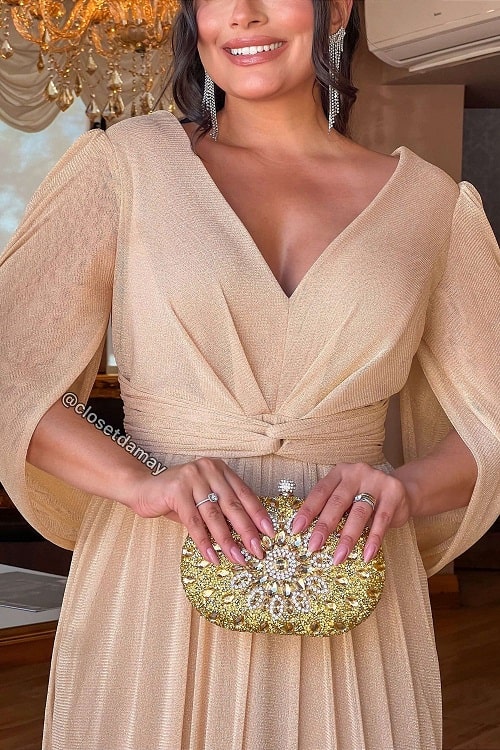 5. Black
Elegant and sophisticated, black nail polish is a timeless choice that looks great with anything, including your gorgeous gold dress!
It's the perfect choice for a winter party, especially when you're aiming for a bold and luxurious look that's sure to turn heads and make a statement!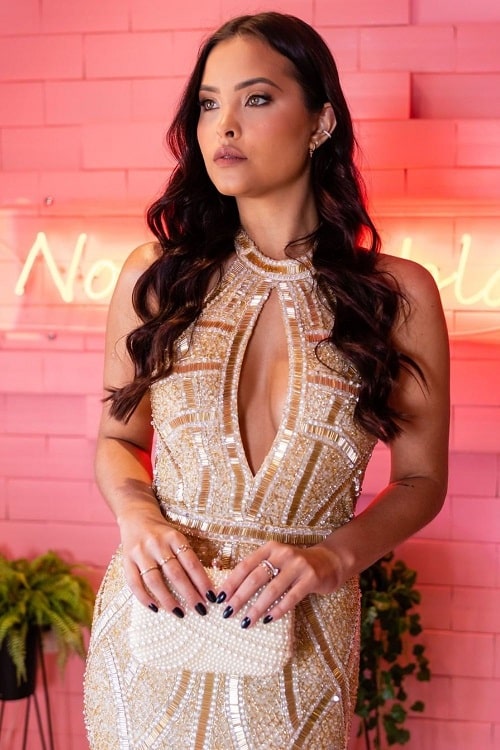 6. Brown
A dark brown or taupe nail polish is another subtle choice that perfectly complements your gold dress! It's versatile, sophisticated, and suitable for any occasion, especially a fall party.
Plus, brown nail polish is in vogue right now, making it a trendy pick! No matter your skin tone, this nail color is a gorgeous choice for a stylish and elegant look.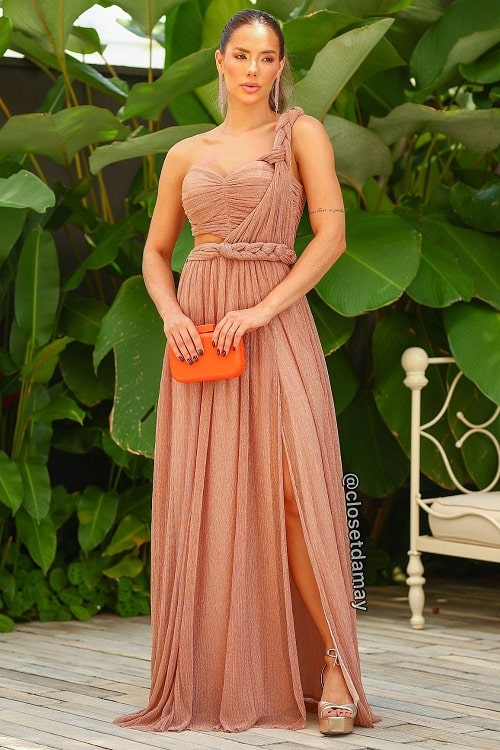 7. Blue
A gold dress is perfect for special occasions, as it exudes an elegant and opulent charm. That's why it's always a great idea to complement it with classic and understated nail polish colors to let it shine!
But if you want to go bolder and make a statement, I'd try pairing it with a navy blue, royal blue, light blue, or even turquoise nail polish.
Navy blue nail polish, for example, is an excellent alternative to basic black and can be worn for formal evening events. On the other hand, a light blue or turquoise nail polish is perfect for adding a pop of color and creating a more fun and playful look!
However, keep in mind that these nail colors can steal the spotlight from your dress. If you prefer a more subtle yet sophisticated look, remember that you can't go wrong with nude nails or a French manicure!
TIP: For a flawless manicure, start with a base coat followed by two coats of your favorite nail polish. And, to enhance the color and make it last longer, remember to finish off with a top coat!
You might also like
Featured image: Ateliê Nosso Cabide