If you don't know what color shoes to wear with your red dress, then this guide is for you! Whether it's for a casual party or a formal occasion like a wedding, I'll give you the best shoe suggestions for a flawless look!
If you're attending a formal event, you can create an elegant look by pairing your red dress with nude, silver, gold, or black shoes. On the other hand, white heels are an excellent choice for a more casual occasion, especially in spring or summer.
Next, I'll tell you when to choose each shoe color based on the occasion while keeping your personal taste in mind. To help you in the best possible way, I'll also give you some accessory tips on what jewelry or purse goes best with each combo!
So let's dive in and find the perfect match for your red dress!
What color shoes to wear with a red dress?
A red dress is absolutely fabulous for a daring and glamorous look! That's why you want to choose the right color shoes to complement it, especially for formal events, so they don't steal the spotlight.
But no need to worry because I've got you covered with the most versatile and elegant options for any occasion that will let your dress shine!
1. Nude
Don't want to take risks? No matter the occasion, nude heeled sandals or pumps are the best options for a polished look that keeps the spotlight on your red dress.
Elegant and versatile, nude strappy sandals are the perfect choice for any dress, especially if you choose a shade that closely matches your skin tone. Not only will this give you a sophisticated look, but it will also elongate your silhouette and make you look taller!
For this combo, I would choose silver jewelry for an extra touch of sophistication and a white clutch bag to add elegance, creating a delicate overall look.
On the other hand, if you prefer a more monochromatic style, you can go for a red or burgundy purse, especially if your dress has similar-colored embroidery or details.
Tip for bridesmaids: Nude heeled sandals or pumps are the most appropriate option to ensure that the attention remains on the true star of the day: the bride! But before you go shopping for the right pair, it's always great to ask if she has any specific color preferences in mind, to make sure everything matches her vision.
2. White
A red dress is already quite daring and attention-grabbing on its own! So, if you want to lighten up your overall look, white strappy sandals are an excellent choice to tone down the boldness of your dress just enough.
This classic and versatile shoe option complements intense colors perfectly, allowing your dress to stand out while maintaining a touch of elegance.
Because white shoes are more casual, this combo is perfect for spring or summer weddings, especially if the event is in a country or beach setting.
As for accessories, complement this outfit with silver jewelry and a silver or white clutch, and you'll have an elegant look that's sure to impress!
However, remember that white heels will create more contrast and may not be the most subtle option. If you prefer to play it safe, opt for nude or metallic shoes instead, especially if you're a bridesmaid.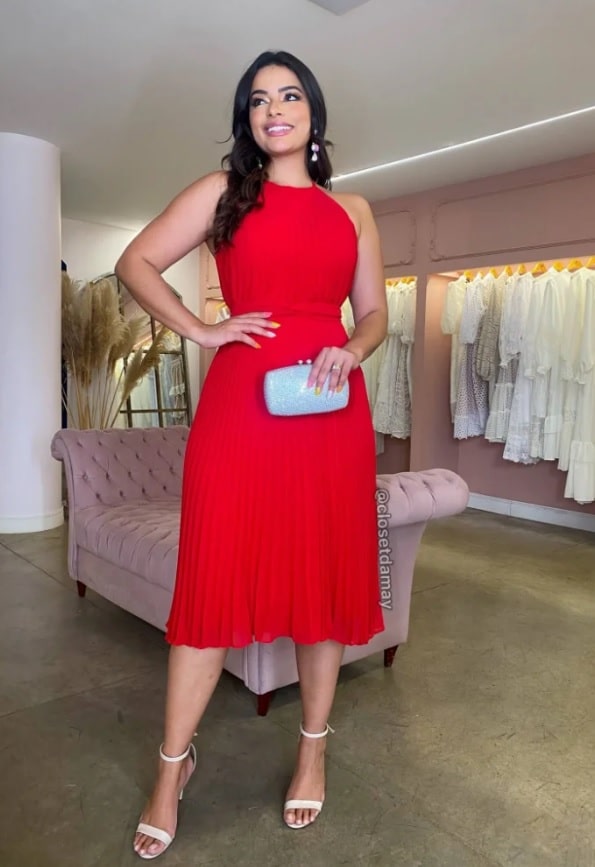 3. Silver
No matter the occasion, whether it's a wedding, prom, or a fancy evening party, here's a foolproof tip: pair your red dress with silver shoes!
Silver strappy sandals or pumps are versatile and sophisticated, making them an excellent choice that complements almost any outfit and adds an elegant touch to your overall look.
To complete this combo, stick to silver accessories and opt for a white clutch to keep everything harmonious.
If you want to be a bit more daring, pick a sparkling emerald green purse. This will add even more glamour to your look, especially when paired with earrings with details in the same color!
See also: 9 Best Purse Colors That Go With Your Red Dress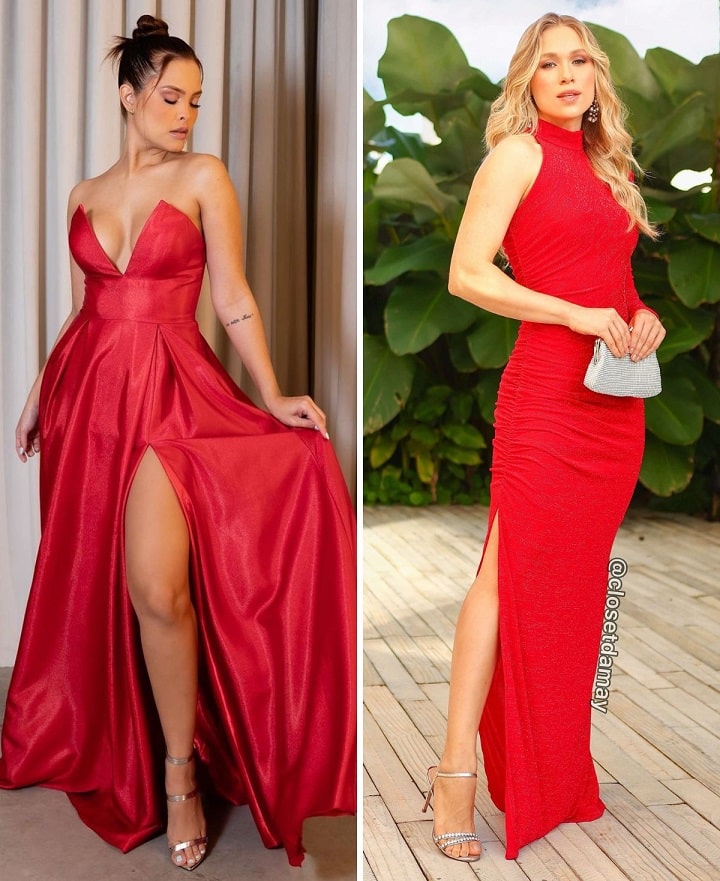 4. Gold
A red dress with gold shoes creates an incredibly luxurious and refined look, perfect for a fancy wedding or a glamorous evening party.
If you want to exude a goddess-like aura, gold high-heeled sandals or peep-toe shoes are the way to go! These versatile shoe options work especially well with dresses in bold colors such as red or burgundy, making you look classy.
To complete this red dress gold shoes combo, accessorize with gold earrings and a gold, white, or beige clutch bag. These choices will enhance the warm and stylish look that will make you stand out at any special event!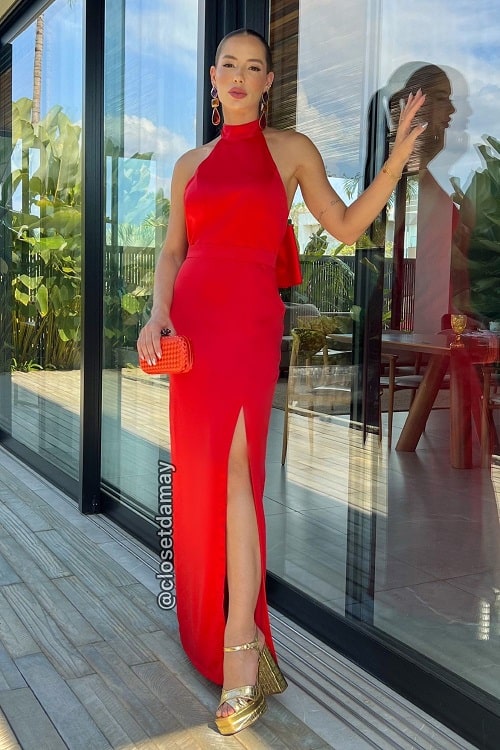 5. Black
Finally, let me tell you that you can't go wrong by pairing your red dress with black shoes!
If you want a bold and daring look, black heeled sandals or pumps are perfect for a fancy evening party or a special occasion with your loved one.
And the great thing about black heels is that they're a timeless and versatile option that will complement any other dress you have in your closet, just like nude or metallic shoes!
As for accessories, I'd pair this combo with a black clutch and either silver or gold jewelry, depending on your taste.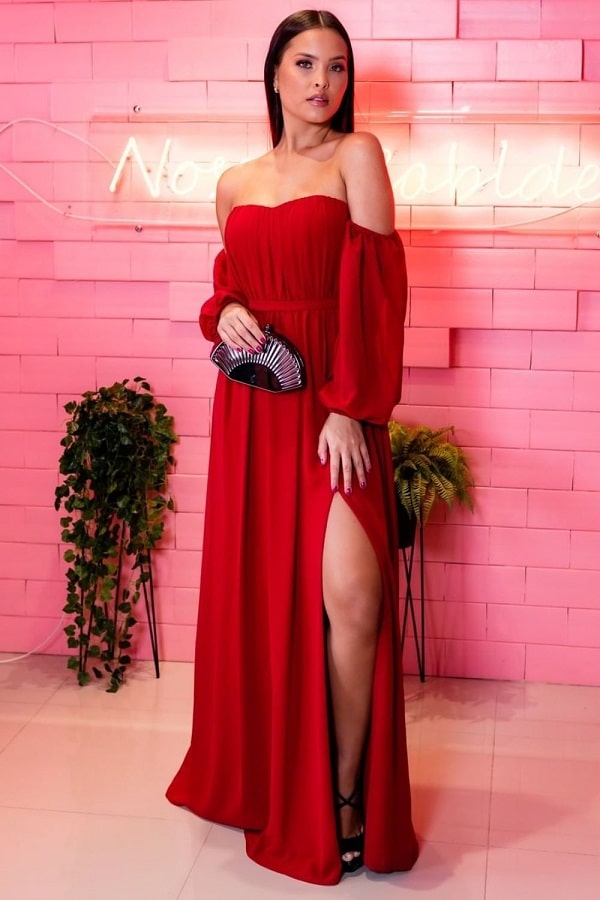 Conclusion
It's true that there are other footwear options to wear with a red dress, such as blue or even red shoes. However, these combinations are more unexpected and may be too daring for a formal occasion.
The suggestions I give you earlier are the safest choices. So, if you've been invited to a formal event and are unsure, trust me, you can't go wrong with any of them!
In my opinion, when it comes to a red dress, it's important to let the dress be the focal point of the outfit and avoid overdoing it with accessories.
You might also like
Featured image: Marieta